WASTEWATER TREATMENTS PLANTS
The sewage treatment plants consist of a polypropylene biological reactor with a unique technology in the interior. AUGUST purification technology ensures high quality treated water, as well as low investment, with operating costs minima. The technology is also known internationally as: Vertical Flow Labyrinth VFL®. The AT wastewater treatment plant is fully registrable. It includes a security system for sudden overloads of up to 100%.
All wastewater treatment processes are carried out in a simple radial polypropylene container. At first, wastewater flows into the non-aerated area, where mechanical pretreatment is carried out. This is divided by several internal walls, where circulation is established. In addition, using gravity, the wastewater flows into the anaerobic fermentation zone, where it is mixed with the activated sludge, flows into the denitrification zone and this process takes place. From the overflow of waste water from the denitrification zone in the aeration zone, the compressed air passes through the bubble aeration elements or diffusers, is incorporated into the aeration zone and in the air bridges for circulation and recirculation of the activation mixture. The air supply is produced from the air blower, the only mechanism in the system. Oxidation of wastewater and nitrification processes occur in the aeration zone. In addition, the activated sludge mixture flows into the lower part of the sedimentation section, where the activated sludge is recycled by nitrification in the aeration zone of the plant.
INSTALLATION
The biological process of the AUGUST treatment plants is carried out with an air blower, as the only electrical and external component, mounted separately next to the treatment plant, which insufflates the required amount of oxygen from outside into the reactor so that the biological processes are developed . This guarantees fault-free operation, as well as optimal and simple maintenance with low sludge production. The assembly and installation of our sewage treatment plants is simple and our technical staff will provide you with complete instructions to carry it out. You can consult our distributors for installation and maintenance.
MAINTENANCE
The biological process of the AUGUST treatment plants is carried out with an air blower, as the only electrical and external component, mounted separately next to the treatment plant, which insufflates the required amount of oxygen from outside into the reactor so that the biological processes are developed . This guarantees trouble-free operation, as well as optimal and simple maintenance with low sludge production. __ CATALOG
System of the water treatment plant‎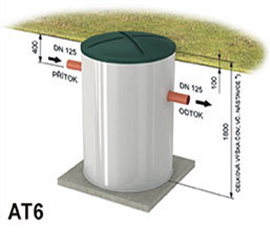 AT6 – Máx 4 persons
Consumption 0,60 kWh/day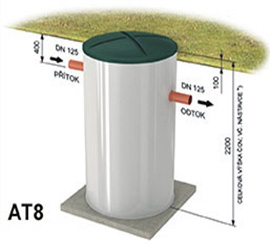 AT8 - Máx 6 persons
Consumption 0,80 kWh/day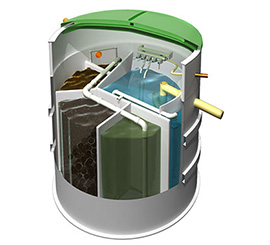 System AT
How biological treatment works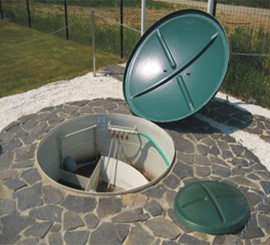 Installation AT
Final installation without odor